Ad Death Match: Who Gets The Best ROI? Google or Facebook
YouTube versus Facebook, what is the best platform to be used to do low-skill, mega-high ROI? If you're a beginner or a veteran, I'll show you and make it very clear for you. 
Over the past month, I've scaled a new business past $250,000 in sales, and we did it with a 50/50 split between Facebook and YouTube ads, so I'm going to show you that campaign on both platforms.
Also, I'm going to show you the best funnel and product to sell on each of these platforms for both hyper-beginners and experienced veterans who want to skip to the next level.
Look, if you don't have five minutes to watch a video or read this blog, that's fine. Just know it's going to cost your business a ton of money when you start running ads on either of these platforms. So, spending 5-10 minutes on this to see what we're doing is worth it.
Let's look at the whiteboard of truth and justice, where I'm going to compare the two ad platforms because they're quite different and do things differently.
Both platforms have unique advantages. If you're a regular visitor and hit the button, you'll get more marketing and business strategy tips focusing on helping you with your mind and how to think as an entrepreneur. So if you like these and want more, hit the button. It helps the algorithm, and so leave a comment.
Which one has the best initial targeting? Hand down, Facebook. It's easy to start an initial campaign on Facebook, but Google AI, with its pixels, will find customers for you, so you can't go wrong even if your targeting is way off.
Now with YouTube, it's completely the opposite. It's possible to start campaigns with audiences you think to make sense and then get absolutely zero sales, zero options, and absolutely nothing that works.
When it comes to pixel AI, one of the key things on Facebook is your ability to train your conversion pixel. For example, when a person buys something from you, the person opts in from somewhere. It allows the pixel to go and see what the person looks like.
YouTube has a similar thing, and Google Ads does the same thing as well. But Facebook definitely works a lot better, so ease of starting and the pixel AI are much better on Facebook.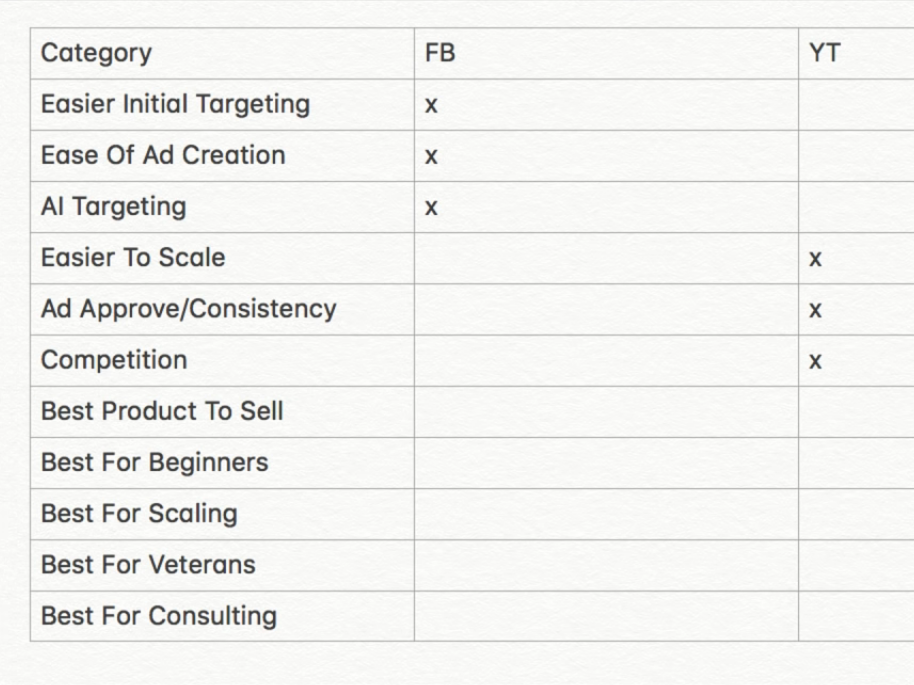 One other thing with Facebook is that you can get away with images and some text, which makes it so much easier on Facebook to start your first campaigns, especially for beginners.
I usually use videos, and the ads convert better, especially as the YouTube ads are a little bit mysterious about how they work and how YouTube ads flow.
So copywriting for YouTube ads and filming the ads can be really difficult for some people.
If you get your initial targeting right, you understand how to do your copywriting on Youtube. After that, it's far easier to scale your YouTube ads.
But campaigns that work really, really well on the lower levels completely fall apart as soon as you put $200, $300 a day behind them.
On Facebook, if you find a campaign that works really well, then you know to get your initial targeting right, you can scale to insane levels and even go really broad with them.
For example, I had tons of success on YouTube ads, just targeting the keywords Facebook ads or Shopify, just using big, broad, giant keywords.
If you understand the initial targeting, you can scale easily on those campaigns to $1000-2000 a day. However, scaling to that level on Facebook ads, while it's not impossible, is much harder than on YouTube.
The other major benefit of YouTube is it's much easier to get and stay approved on the platform. If you've seen what's going on with Facebook, it's very hard to run your ads, especially in certain niches.
I see plenty of people in e-commerce not selling get knocked off Facebook. But, on the other hand, I constantly see B2B people just doing innocent stuff like how to grow your business with Facebook ads or running agency ads to attract people who get banned from Facebook.
And, you have to be super kosher with your landing pages. Basically, you have to make a landing page saying that nothing we will do will ever work, and if you like the color purple, you should opt-in. 
You have to be so toothless to get people to opt-in.
The benefit of Facebook marketing is that when nobody is allowed to be aggressive in their tone, you can tone down the wording and copy and not be so extreme with your marketing.
The other place that Facebook fails at is hyper-competitive because what you're going to see as I break down some of my most profitable campaigns is that it is so easy to start but hard to scale because every single person is on Facebook.
Almost every single e-commerce store and, every single internet marketer, every single agency is running Facebook ads. That's not the case with YouTube ads. And so if you want to talk about where you can scale easier to get a much bigger edge, it's definitely going to be YouTube ads.
So, if you're looking to start a business and just get started, Facebook ads are a pretty easy place. YouTube ads are a lot more wild, wild west. But if you already have a business and you're looking to scale to the next level, and you're looking for more consistency in the business, and you're looking to hit the $2000-5000 a day, and you're looking for $100,000-200,000 a month, YouTube ads have a significant advantage.
Suppose you want to see how I scaled my business past eight figures. In that case, there's training at the bottom of this that gives the ad targeting strategy behind it, the funnels, the products, everything, and so that shows how to really take your business to the next level on YouTube.
So if you're getting started and want to succeed with low ad spending, you can do very, very well with Facebook ads, and I'm going to show you beginner tactics on YouTube ads that I think are even more profitable than Facebook ads.
Looking at one of my Facebook ads accounts, I use this for my super side business. My main focus is getting people and clients to sign up for my software company. In addition, I do some YouTube consulting on the side.
What I'll do is these audiences, this is really basic, very low scale of ads have cleaned up for me. I want to see $500 for a phone call. We're doing well if we're getting $500 for a phone call. We're pumping out 3x cash profit before payment plans or anything else.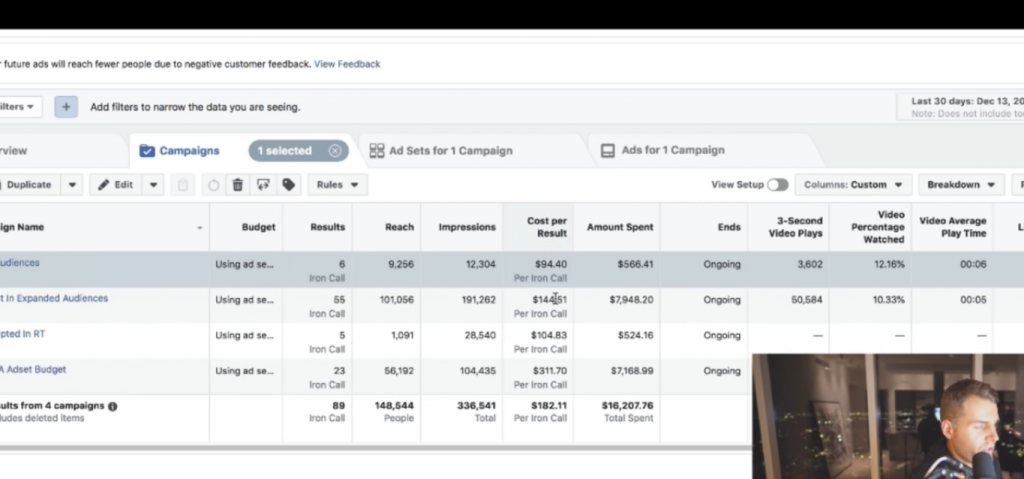 On Facebook, it's absolutely hilarious because I'm pumping out $100-200 in sales, and if you see the last 30-days, I was able to book about 89 sales, and we'll close about 25-35% of those. So it's a very expensive prop, and people that sign up for those usually sign up for Hyros anyway, so it works well.
I want to show you just how simple the audiences were, so if you look at these audiences right here, I'm doing $20-60 day audiences, and you can see what I've targeted right here.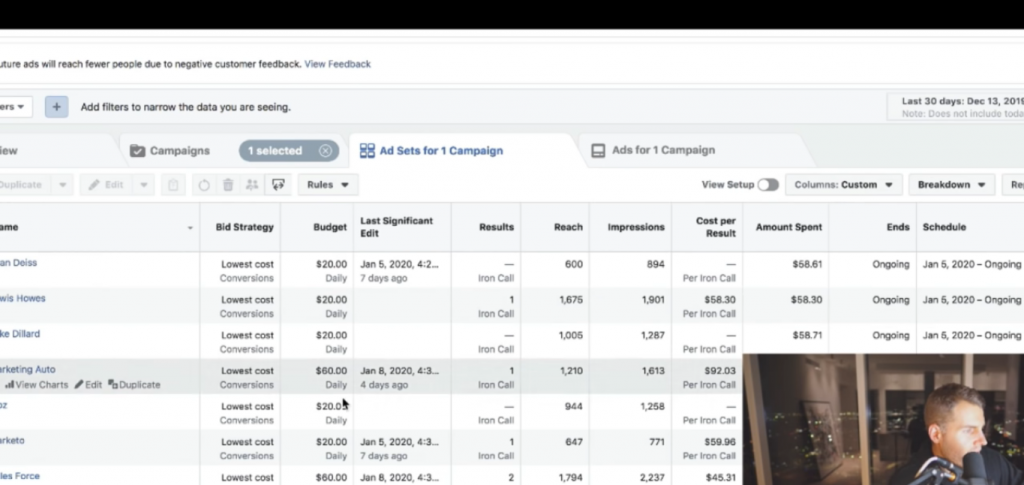 For example, we usually work with businesses running call funnels, webinar ads, or doing some consulting. So I'm just targeting people that like Salesforce, okay? I mean, the targeting is that simple.
What I suggest you do when starting your ads is, begin to think about what tools people are using. Who are your competitors, what are they doing, and what big audiences are they targeting? So I looked at people who like Salesforce and what type of software my target would use.
Also, what types of products would they be buying and then you can find one of them. You'll get a big list of all the ones you can target.
When I thought of my competitors, I put in Frank Kern because he does a lot of consulting for business. When I use that data, I find tons of other audiences that are related to this, and it worked really well for us.
This is the most basic Facebook ad training you could ever imagine, and this generated a ton of calls for us.
When you want to start, the place to start is with YouTube ads, which I think are way more profitable than Facebook ads and generate us calls very cheaply.
When you're a hyper-beginner, the best place to start is YouTube ads, and what I'm going to show you did really well for us. So what you want to do is go, and if you're a beginner, to type a keyword like Facebook ads that you're looking for, and you're going to see top videos that people are going to see as suggested to watch about Facebook ads.
Now what I like to do is make two different audiences. I'm going to make one audience where I go into placements. I will copy and paste all their channels and throw those into AdWords for all the people that show up on this list. Another tactic I like that is very ninja is to imagine our niches, like Shopify, where we can go through anything that was uploaded, and I want to sort by view count.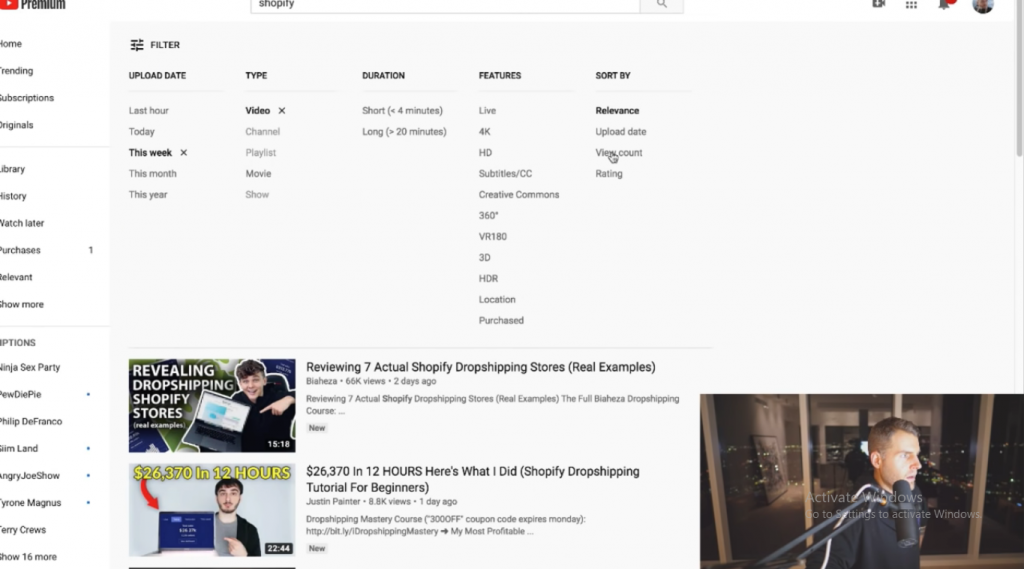 I'm looking at the most relevant video. This kid has been uploading and crushing it in the Shopify niche.

His video gets tons and tons of views. We can go through all the videos, and I want to find what was uploaded in the last couple of days because people are not placing their placement ads on these latest videos.
If you just type in Shopify, you'll see a lot of dead videos, I guarantee this, and this video right here will probably get another 5k views this week. This is not where the attraction is at.
If you look at the last few days, I'm not 100% sure this guy allows advertising. But if I look at his last videos on his channel and I checked earlier, because as I'll use this as an example,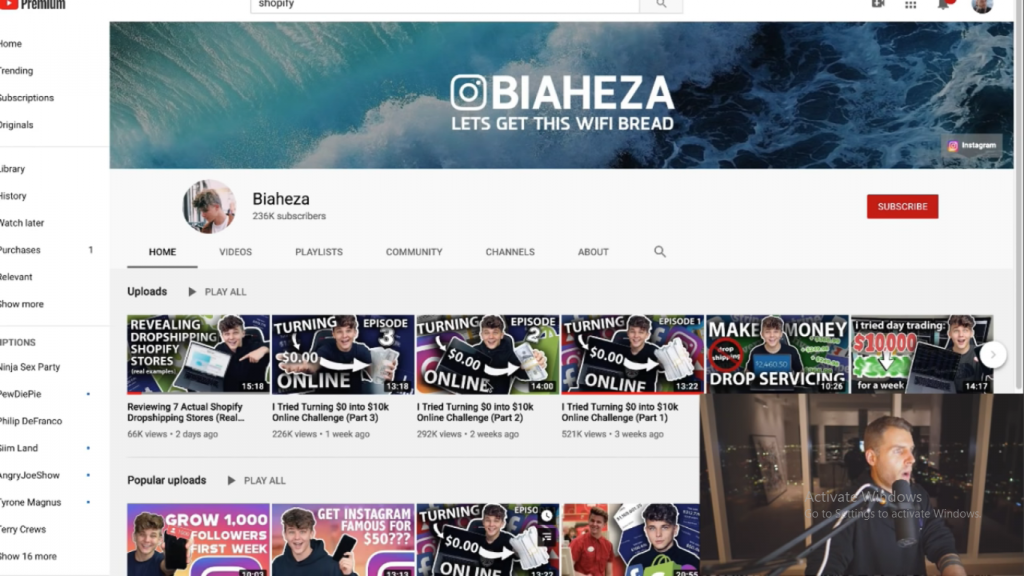 if we can get a placement on here, we can sneak in on all these views, and that's a mass amount of views. So that's the best place to start as a beginner and veteran.
Now the best way, if you're a veteran, the best way to scale these Facebook ads on these platforms, on Facebook is that it's really easy, is that when you start your ads, you're going to start training your pixel and Facebook's pixel gets really good at finding customers.
What I've used in the past is once you have a good chunk of opt-ins or sales, and your pixel is really warmed up, you can make lookalike audiences of your sales that are really huge. Like 3-4%, and that's going to be an audience of 10 million people, give or take. But, then, you can have it do just target sales, which crushes it.
So, for example, once we have a lot of calls, we optimize it for calls and start pumping out lookalike audiences, and that's how we run these ads.
That's it, you can start to scale up really quickly, and you can then go and use layered big-broad audiences. So, for example, let's say that in the B2B niche, digital marketing if you were to look at that audience on Facebook, it's something like 4 million people. But if you layer it with people that also like Salesforce or by certain job titles, this is where it gets really juicy and good. 
Now, the cool thing about YouTube is once you can get your campaigns working at a base level, it usually means it will work at a higher scale, especially when you break out placements.
What you can do is use in-market audiences. So, for example, I'm looking for business services. So I scaled that, and I bid on one keyword, money, people looking for apartments, and BMW.
But this is the funniest one right here, money or online jobs, and this one is just massive that I could easily spend $10,000 a day, and that's why it's so easy to scale on YouTube.
There are examples and counterexamples of both of these, but the full that is the best type to be running on YouTube is definitely your webinar or long-form sales video to a $2,000 offer.
I may be biased, but it's always been tough for me to run a $47-97 offer. Also, getting traction on YouTube is tough if it's free-trial-based, so $2k is the best price around.
Or, if you're in a niche like an exercise, you want to have a $197-297 offer that goes to a long-form sales video that people can't skip; a webinar funnel works really well, or a straight funnel that goes to a page.
And if you're a beginner and don't know what those look like, there's a link at the bottom that will take you to a YouTube ad training that is completely on YouTube that will show you all the funnels, what they look like, etc.
Now what I like on Facebook are sales call funnels. If you get a good salesperson or you're good on the phone, you can create a $5,000 offer. I'm not talking about a chunk of garbage; I'm talking about delivering a very high-powered consulting service delivering a high-powered service for businesses.
For example, at Hyros, we grow it all with sales calls because we deliver high-powered data attribution for their business that allows large businesses that spend $100-200,000 a month to save like $30,000 instantly.
This also helps them grow their ad spend by $20-30,000 monthly. So it's a huge profit for them on both ends of the spectrum.
So that's how we close, and we do really, really well on YouTube and Facebook. But YouTube took a little bit of trial and error to start.

So if you're a beginner or even a veteran, and you want to see the highest profit margins possible, it's definitely easier to achieve on Facebook because they are much better at finding and targeting B2B or high-ticket buyers at a much lower scale easily.
So that's what I think you should be selling on either platform.
There are plenty of other examples of different types of products. For instance, on YouTube, I think what you should do if you're in e-commerce is start selling $200-500 products with sales videos. I think that's the next level right there.
And if you're on Facebook, I think you should be doing the same exact thing by selling bundles of e-commerce products.
Here's another bonus tip; if you're in SaaS, I think you should be selling at least something in the $997 range on YouTube but screw that, I think you should be selling something in the $3,000 range– it is so much harder to sell the lower ticket items.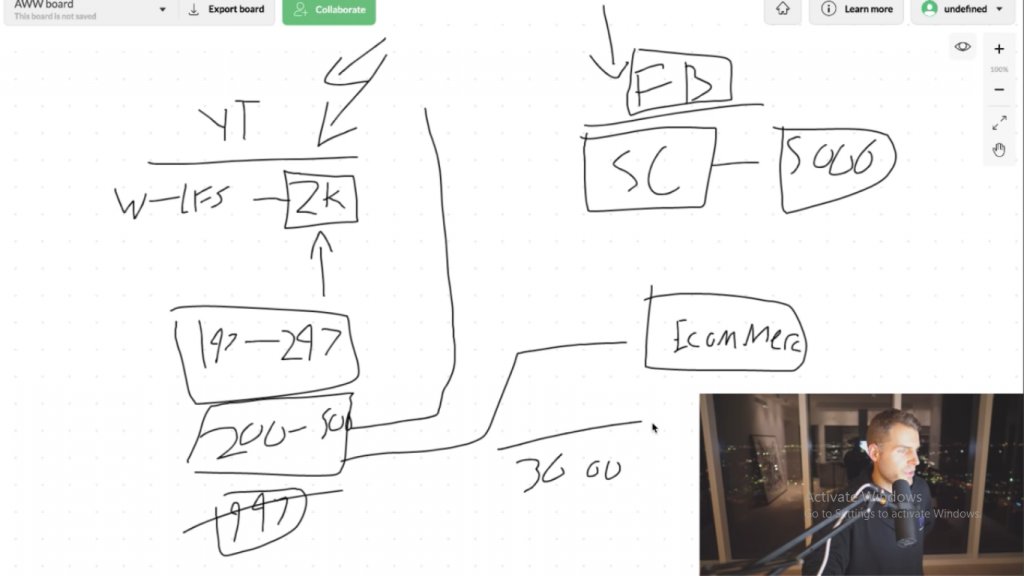 So that's what you do for your Facebook and YouTube ads, right in your face and razor-sharp.
Again, if you're a beginner looking to start up, Facebook ads are much more friendly unless you're taking a placement tactic. For veterans, YouTube ads can unlock that, but they're a little trickier to start up once you know where to target, you know, the copywriting and all that stuff, they just explode.
Okay, that's about it. There's training below that shows how I scaled one of my businesses to 8-figures, ad targeting, and all that stuff. Let me know if you like these videos and if they're actually targeted to marketing tactics.
If you'd like to receive more of these and other pieces of training, I like them. They're easy, but you can't get them if you don't subscribe, so go and subscribe now.
HYROS TRACKING
If you are interested in obtaining the same stats I showed in this video and even having us help you set this up, GO HERE to get more information on HYROS.
Ad Training and Tactics
While I do not sell courses, I do offer a private coaching program where I train people on the ad strategies I have used to build multiple 8 figure and 7 figures businesses. You can get more details on that HERE.
HYROS Facebook Group
It's really simple. This group is the best media buyer Facebook group online because we make sure that every member is spending significant ad spend before joining. It's for veteran ad buyers only and because of that the networking/information being shared is on another level. You can apply to join HERE
Here Are Our FULL Zero To Scaled Ad Courses (Free)
The Zero To SCALED Facebook Ads Course (Advanced FB Scaling)
The Zero To SCALE Youtube Ads Course (Advanced YT Scaling)
Here Are Some Other Post You Will Enjoy
Using AI + Print Tracking Is The Ultimate Scaling Edge In 2020-2021
My Top 3 Highest Converting Youtube Ads Of All Time
The Highest Converting Ad Opt In Existence
How I Scaled To 8 Figures On Youtube With BROAD Keywords