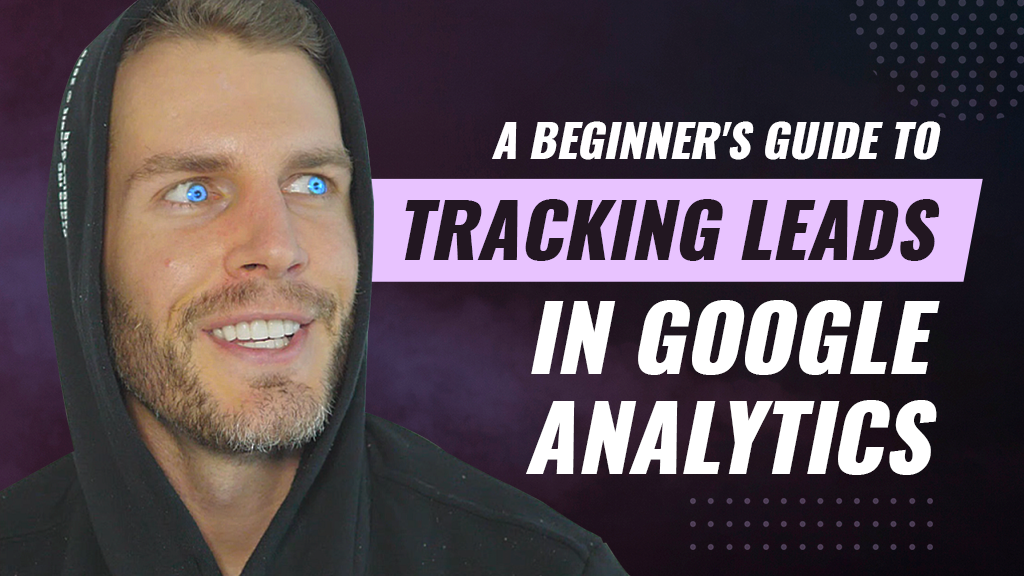 A Beginner's Guide To Tracking Leads In Google Analytics
If you're running any sort of online ads, knowing the type of ads to run and, most importantly, how to track those ads so you can determine whether they are performing well or not is crucial to your ad success.
Let me say it again, for newbies and beginners, figuring out how to run ads is one thing; more importantly, it's learning how to track your ads so that you can scale them to increase your results and improve your revenue.
So let's go through this together.
What Are Leads In Google Analytics?
Before we discuss lead tracking in Google, we need to understand what we mean when we say leads, what Google Analytics is, and how to utilize their tools best.
Leads, in a nutshell, are those people and businesses looking to purchase a product that could be yours could be something similar.
How you get and attract your leads could be from a variety of marketing strategies, from pay-per-click (PPC) ads, video, social media, blog posts, and other content forms.
In Google Analytics, leads aren't reported the same as in other tracking tools. For example, Google Analytics (GA) won't track IP addresses or give you insight into the nitty-gritty of your visitors. Instead, they take a traffic-oriented approach.
This view and reporting about your leads in GA can be great for an overview of how users and visitors interact with your content and your ads, but it doesn't give you great insights into how they're converting.
So let's say that you've got ads running that lead to a landing page. Google Analytics won't tell you the person or what content the visitor clicked from so much as the volume of clicks you're getting. In other words, you won't be able to differentiate your leads but will know the total number of people that generated traffic to your landing page.
When you're tracking your data with GA, you'll only get a small glimpse at the overall effectiveness of your lead generation and ad strategy. For example, you'll see how many people interact with your landing page and website but can't see what got them there and whether they're converting or not.
There are a few problems with that. Most importantly is that you can't optimize your ads or landing pages based on customers, just based on the volume.
So if you want to scale your ads, you will end up throwing money around to see which ones convert the best. You may as well go to an ATM at night, throw your money around, and see if you get any leads from that action; it's just about as effective.
Ok, so Google Analytics can show you the volume of leads you're getting, just not whether you're converting those leads or not.
So let's take a step back and explain what Google Analytics is and how to understand their reporting.
Setting Up Your Google Analytics
Google makes it simple to set up your account.
All you need to do to set up your account is head over to the Google Analytics login page, create a username, and connect your website. The hardest part is wandering around and figuring out the home page, which can be a bit overwhelming with details about your site.
Once you set up your account, the next thing to do is to set your Analytics tracking code onto your site and include any other users and admin to your GA account.
Next, play around with your account and familiarize yourself with the Analytics Dashboard.
While cruising around, you want to figure out the weakest of your web pages. Once you figure out which of those dogs don't hunt, take them out and set them free. Or you could combine them into one page and hope to increase your traffic.
Why Use Google Analytics?
The benefit of using GA is that you can drill deep into your web pages' traffic sources and see which pages attract the most traffic.
After you set up your GA account, you can use the information you gather to optimize your site to match the pages that are getting the best traffic and stop those pages that are just weighing you down.
From your GA dashboard, you can;
View how many visitors you get to your site
What type of devices and browsers are most popular for users getting to your pages
Get insight into the other pages and ads that send traffic your way
What social media channel provides you with the most traffic
What keywords work the best for you
Additionally, you'll be able to see how long visitors are on your site, what pages get the most traffic, how many pages visitors check out, and how visitors behave on your site.
As you become more familiar with the GA dashboard, you can determine what pages don't get very good traffic and have a high bounce rate.
High-bounce rate isn't about which red ball bounces the highest; in this case, it's about how quickly a person leaves your page. The higher the bounce rate, the less amount of time people spend on your page.
Understanding what pages aren't doing well is important. It's important so that you don't waste more time on building content that nobody wants to see, but also, it's important because if your site has a ton of content, it can become challenging to navigate, increasing bounce rates.
Think about it this way; you have the best restaurant in your city. Maybe sushi or steak. But for this example, your restaurant has only 3 seats and a line out the door. People waiting there will get bored, distracted, or disinterested if it takes a long time to get their food.
Now let's take this example a little bit further. Let's say that you have a great restaurant with a menu that's like 50 pages long.
But your service is terrible and slow.
They don't know the menu, cuz how could they, it's 50 pages. That's more pages than some people read in a year, okay? Anyway, the point is, with too much stuff that people aren't looking for, with slow service times, people get upset and leave.
The worst part, people talk. They say, "yeah, the food looks great if you can get it, but we left before. It was too much of a headache."
See, people like it to be easy for them. And the content on your page should be easy for them to take in. Otherwise, they're going to leave. It's that simple.
Understanding Google Analytics Reports
Ok, so you're starting to get the picture. Google Analytics can provide you with some reporting on how much traffic you're getting to your site, how long they stay, and the type of content pages that are the most popular.
That said, how do you read the GA Reports and understand what it is that the reports are telling you? This is important because as you know the traffic and behaviors of people on your pages, you can eliminate the problem child on your page and promote the good ones with better optimization strategies.
The sidebar of the GA report will offer you the Audience, Acquisition, and Behaviors about your page. You want to understand and dive into these metrics to optimize your pages better.
Audience
When you start tracking your leads with Google Analytics, you will want to look at your audience overview on the GA page.
Looking at your audience will show you the type of users visiting your pages, what pages they visited, and how long they stayed. Also, you can check out how many of your visitors were new or returning.
In your Audience Overview, you'll be able to see the following;
Demographics–basic info on the age and gender of your leads
Interests–types of things your lead enjoys, such as entertainment, activities, sports, and more
Geolocation–where your leads are located and their primary language
Devices–knowing what devices, PC or mobile, that leads are using and what browsers are most popular
This data will help you with targeting and retargeting your ad campaigns.
And knowing if your leads are new or returning is really important, ok. Because if you're trying to track your leads and the effectiveness of your ads, knowing how long a person has been involved with your campaigns will help you understand the average length of time before a lead converts.
And knowing how long it takes to convert will help you devise better-optimized campaigns in the future.
Another thing you can see with your Audience Overview Report is the average bounce rate on a page. Why is this important? Because your bounce rate will help you see how long people are staying on your pages.
Higher bounce rates mean that your page and content aren't resonating as much as you think they may be. Lower bounce rates, on the other hand, will help you understand that people are digging into your stuff.
Acquisition
The Acquisition Overview will report on your leads and audience is searching for and what traffic sources your audience is arriving from to your site.
With Acquisition Reports, you'll be able to see where your audience comes from, including;
Top performing channels: Understanding how your leads are coming to your site, whether it's paid ads, organic searches, or referrals from other sites, is crucial in optimizing your campaign strategies.
Keywords: Your Acquisition Report will let you see the types of keywords that your leads are using to get to your opt-in and landing pages.
Social Media sources: Google will show you what social media platforms your leads are on and coming from to your site.
The benefits of using an Acquisition Report are that you can gain the data you need to understand the types of search queries your leads are coming from and if specific keywords are performing better in similar ads than others.
Behaviors
One last report to utilize in your campaigns is the Behavior Insights Report. This report will provide data showing whether your visitors are reading all your content, only going to your opt-in, and other on-page activities your leads are taking.

Why is this important? Well, if you have a bunch of content and people aren't reading or watching any of it, you should consider getting rid of those pages and content. Tons of wasted content on your page can be confusing and unnecessary for people visiting your pages.
If you're new to online marketing, getting the correct data and insights is crucial for your ads and marketing campaigns. Knowing the kind of leads you have, where they come from, and their interests will help you devise more effective ads in the future.
And as you start to get results and conversions, tracking your data correctly is the difference between having a successful campaign and a costly mistake.

Don't make costly mistakes. Getting the correct type of tracking takes a lot of time and understanding all the things that make your strategies work.
It can be a lot of work and time, especially if you're new to the game. But if you want to track your data and scale your ads to increase your ROI effectively, the only thing I know of that does it well is Hyros. With Hyros, you'll get deep insights that Google Analytics only touches on, which may make you decide on things with incorrect data.
So don't make decisions with inaccurate data.
Get the correct information to increase your ROI and improve your lead conversions. Hyros will show you what you need to create better ROI, up to 20-30% more than any other, or guaranteed. So book a call with us, but only if you want to do better.
Ok, so that's it for now. I hope you enjoyed this beginner's guide to tracking leads using Google Analytics.
If you're interested in learning more, subscribe to my YouTube channel, where I always post this type of stuff. Or check out our Facebook mastermind. It's the best mastermind anywhere. There's over $50 million in ad spend on there to help you learn all the tips to convert your ads better
HYROS TRACKING
If you are interested in obtaining the same stats I showed in this video and even having us help you set this up, GO HERE to get more information on HYROS.
Ad Training and Tactics
While I do not sell courses, I do offer a private coaching program where I train people on the ad strategies I have used to build multiple 8 figure and 7 figures businesses. You can get more details on that HERE.
HYROS Facebook Group
It's really simple. This group is the best media buyer Facebook group online because we make sure that every member is spending significant ad spend before joining. It's for veteran ad buyers only and because of that the networking/information being shared is on another level. You can apply to join HERE
Here Are Our FULL Zero To Scaled Ad Courses (Free)
The Zero To SCALED Facebook Ads Course (Advanced FB Scaling)
The Zero To SCALE Youtube Ads Course (Advanced YT Scaling)
Here Are Some Other Post You Will Enjoy
Using AI + Print Tracking Is The Ultimate Scaling Edge In 2020-2021
My Top 3 Highest Converting Youtube Ads Of All Time
The Highest Converting Ad Opt In Existence
How I Scaled To 8 Figures On Youtube With BROAD Keywords