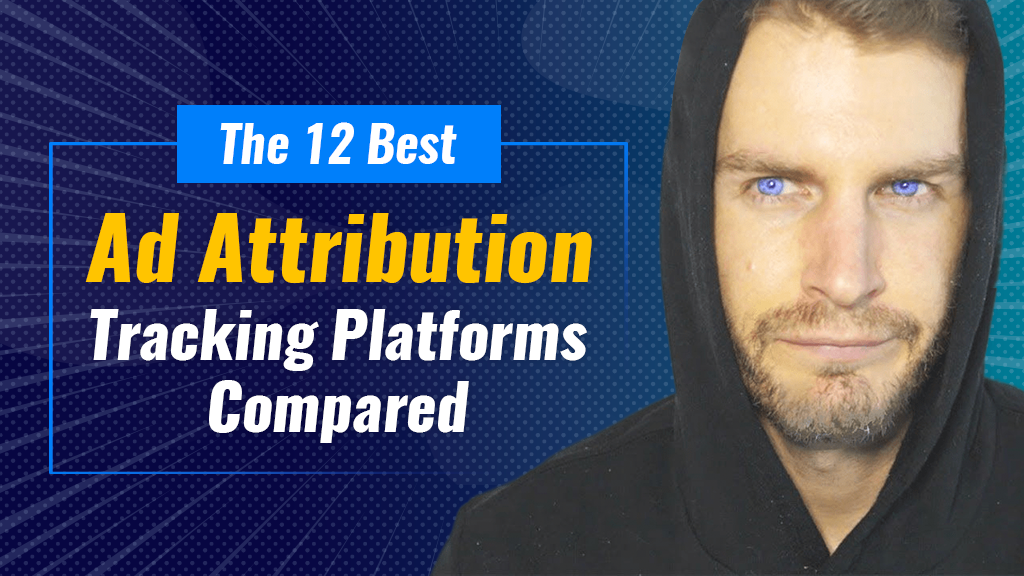 The 12 Best Ad Attribution Tracking Platforms Compared
What's up, Hyrolians?! Today we're gonna talk all about the different ad attribution platforms. We'll take a good look at several so you can compare for yourself and make an educated decision. I know it can be a pain to research everything separately, so this should make it easier for you.
Trying to find the platform that is the best fit for you is kind of like car shopping.
You know the basics. You need four tires, a good engine, seats, working windows, and a key to start that engine. If you're buying used, the maintenance should have been done regularly. And you should already know your budget.
Who knows what the heck kind of vehicle you'll get with those basics, right? You could be searching for weeks on end with the number of choices available to you based on those criteria. You could get a Gremlin or a Ferrari, and everything in between.
You realize that you want certain mileage as your maximum so that rules out a ton of cars. You search cars.com, Carvana, Autotrader, Craigslist, eBay motors, CarGurus, and CarsDirect. Your eyes are crossing and your head hurts from the countless hours you've spent searching.
After all three weeks of searching, you still don't have a car. All you've done is learn what you don't want. You don't want electric blue, yellow, or gold. You definitely don't want any kind of racing stripes. You don't want a gas guzzler. And you don't want a lemon.
To make the search even smoother, as you're searching, a ton of ads are popping up telling you what car you need to buy. And, bam. Squirrel!! You are looking in another direction.
The whole process can be frustrating. Searching, searching, searching, and hoping you choose a good one. And sometimes you just get sick of looking, so you make your best guess to get it over with.
Yep. Figuring out which tracking platform to use can be kinda like that. But, it doesn't have to be.
What Is Ad Attribution Tracking Software?
Ad Attribution Tracking Software is used to help manage ad campaigns. People running an ad campaign need a tool that does the work for them when it comes to tracking all the details of a customer's journey.
It's meant to help you make more informed decisions from the data captured. When you're properly tracking, the data should let you know if your ads are doing well or if they are flopping.
Ad Tracking Is Meant to Answer These Questions:
What is their behavior while visiting your site?
What journey did they take to get to your site/product?
Why did they decide to leave your site?
Why did they click or continue clicking?
Learning the answers to each of these questions will help you better serve your customers and get a better return on your investment.
The Benefits of Ad Tracking
It Makes Your Campaigns and Content Better
Wanna know if your ad campaign is going well? Track it. Wanna know why it is or isn't doing well? Track it. Tracking your ad campaign should tell you why they are clicking, why they are staying on a page, or why they are leaving a page.
You can figure out why your ads are not converting when you track. The data you gather should help you learn where the problem lies. Is it the images, the process, the offer?
As for your content, using a good tracking platform can help you determine the content that is most appealing to your audience. The data you collect around SEO and traffic will show you what grabs your audience's attention.
It Helps You Make Conversions
Gathering data through your ad tracking will help you provide more relevant content to your audience. In turn, your conversion rates improve because you're giving the audience more of what they actually want. This is when tracking is doing its job!
This is one of the reasons why you'll see that Facebook and Google are raking in the dough. They track their ads like crazy and it pays off.
Be sure to track the source of your traffic, keywords used, Android or iPhone, who they are, and where they live. You also need to track the conversion process, meaning how many people that clicked ended up buying.
Multiple Ways to Track Ad Attribution
In the case of ad attribution tracking, you have multiple choices. You might be using cookies, affiliate links, pixels, Facebook ads, and regular URL links.
Cookies: You've seen these pop up like crazy when you're online. Cookies keep track of a consumer's online habits with the intention of informing you who your repeat visitors are so you can develop retargeted ads just for them.
Affiliate Links: It is crucial for affiliate marketing to have affiliate links. You have the option to track the original source of a shared link when you have a specific affiliate link. This is how all those affiliate marketing people all over TikTok are making their money. They share their special link and get paid for it.
Pixels: These little babies are a bit magical when it comes to reporting user behavior. They are itty bitty transpicuous images hiding in your banner ads and emails that collect and send behavioral info. You can learn quite a bit from these pixels … how many clicked, how long they stayed, who saw the ad, etc.
Facebook Ad Tracking: Facebook uses a pixel to discover how people engage with your Facebook page. With this information, you can change up your ads to make sure you're reaching your target audience, and in turn, improve your return on investment. (Google and a few others also have their own pixel.)
URLs: We saved the most basic link for last. Tracking with a standard link is simple and incredibly useful. Wanna know who's been clicking your link? This is the way to know who's doing it every time someone shares it.
All of this information is pointless if you don't actually know what you should be looking for. There are some key things to keep in mind when looking for your tracking software.
Ad Tracking Features
Ad Campaigns: There is rarely a standalone ad. Most ads are going to be part of a marketing campaign within a marketing strategy. When you're running a campaign, there is a plan that needs to be run and tracked along the way.
Link Shortening: This is exactly what it sounds like. You're making a link shorter. Just use Bitly. It's easy and free, and you can rename your link.
Ad Scheduling: It really does make a difference when you post ads. In this case, timing is absolutely everything. When you track, you can figure out the best time to post for your target audience.
You may want to send your audience to a landing page with an offer. Then you can track them from there.
Or you can run two ads at a time and see which one gives you the best bang for your buck—so to speak.
That's a short list. There are a ton more options. That just adds to the confusion! (Pardon the pun.) Too much data is just that—too much. You need to track the right data, not just a bunch of minutia.
Be sure to use opt-ins or other features that keep you compliant. Just make sure you know privacy rules. Stick to tracking only the data that you need for your target audience to improve your business.
The amount of data you choose to collect could be endless, but don't let it be. You need to track a predetermined data set. The data you track should only contain pertinent information.
Let's get down to the nitty-gritty. It's time to compare the best ad attribution tracking platforms.
Best Ad Attribution Tracking Platforms
It's time to go over the best platforms for tracking your ad attribution. This information should help you choose the one that works best for you so your ad actually serves its intended purpose.
Peerclick
If you're on the hunt for software that can keep up with the growth of your business, Peerclick may be the way to go. It's an affiliate tracking platform whose concentration is on ROI. (And who doesn't want better ROI?!)
The Fees: You have multiple pricing options with Peerclick. They have an option that is completely free, and they also have paid plans. Their paid plans start at $99 and go all the way up to $649 per month. They are known for running sales, too. So you could get it at an even lower price.
The Good: You can get it for FREE. The free version is actually pretty great!
The Bad: If you need the paid platform, it's cheaper to go with another provider. The lowest price for the paid version is more expensive than other providers.
Everflow.io
If you have an affiliate network, then you may want to try an affiliate tracking program like Everflow.io. This platform has the ability to stay in tune with multiple links at the same time. So, if affiliate marketing is your thing, then Everflo.io can help you determine how well your ads are performing for you.
The Fees: You can get up to 50,000 clicks for $395 per month.
The Good: You can easily use it when you run Facebook or Google ads for ecommerce. It also works well with Shopify.
The Bad: A person who isn't technically savvy or finds it intimidating may have trouble with this platform. It requires advanced skills in order to use the advanced features. On top of that, it's also a pricier option. So, it's not a budget-friendly option.
Bitly
If you are just dipping your toes in the water with ad tracking, Bitly can be a good place to get started. It's been around for a while and has a good track record.
Fees: The basic bitly plan is absolutely free. For a more advanced plan with additional features the price is $29 per month.
The Good: Bitly is a cloud-based platform. You cannot find a better option for link shortening and link customization. It is considered a premiere option for link tracking when you run a small business or a big business. If you do your research, you'll find that over half of Fortune 500s are running Bitly. Nobody beats their fees, either.
The Bad: It is not a high-end tracking platform, so the features are pretty basic. You won't find the more advanced features with Bitly. And perhaps the worst part about Bitly is the lack of tracking reports.
Voluum
When you're looking for a platform that has an abundance of integrations, check out Voluum. Their affiliate tracking program will keep all your proverbial ducks in a row, too.
Fees: The fees are no joke. They start for businesses at $419 per month and go all the way up to $1699 per month.
Pros: It is pretty intuitive and the overall design is more contemporary and less boring than some others. There are over forty integrations. If you want certain integrations, Voluum probably has it!
Cons: Holy price tag, Batman. If you need anything budget friendly, this is not the best choice for you.
Linktrackr
You can think of Linktrackr as the more advanced and more expensive sister of Bitly. So, if you like Bitly, but you need more and you have the budget to pay for it, this is another option for you. Just like Bitly, Linktrackr is a cloud-based platform that will track your sales and conversions achieved from your ads.
Fees: You can start out with a basic plan for $17 per month and go all the way up to $77 per month.
The Good: When you're not tech savvy and don't feel comfortable learning new platforms, Linktrackr is a good choice. It's easy to use. Linktrackr also comes with a split-testing option and tons of features. Because it's well organized, all of the choices are not too mind boggling.
The Bad: It's a bit of a pain because you cannot schedule with Linktrackr.
ClickMeter
One domain or ten domains, ClickMeter can handle it. ClickMeter produces reports on the efficacy of tracking links, and it works for businesses both big and small.
Fees: The price can range anywhere from $29 to $349 per month. Most people choose their $99-a-month plan.
The Good: ClickMeter is designed to work with the easily accessible WordPress platform.
The Bad: It's not the cheapest choice for a platform. It's really designed to work best for professional marketers, so small business owners who have to do the work might not be up for all of the time it takes to do it. It doesn't run smoothly.
Pretty Links
The Pretty Links platform is a WordPress plugin. It is a URL redirection tool and custom link shortener. You can create your own link redirects.
Fees: When it's on sale, you can get Pretty Links for $100 to $140 for an entire year. Full-price fees range from $199 to $399 for the whole year.
The Good: Pretty Links reports on clicks and conversions, and it also provides scheduling, campaign set-up, link shortening, and split-testing. As we said, it also uses WordPress plugins. The yearly fee works out to be pretty affordable in comparison to other platforms.
The Bad: You cannot try Pretty Links without buying it. In other words, there is no free trial.
AdsBridge
Well, for some businesses, AdsBridge is all they need for a tracking platform. They don't pair it with anything else. The creators were very thorough when they created AdsBridge, which includes a landing page builder.
Fees: The basic package starts at $29 per month and the most advanced package is $379 per month. The most commonly purchased plan sits at $89 per month.
The Good: It comes with pretty remarkable data and reporting. It works well with teams and numerous users.
Cons: There are complaints that AdsBridge can be slow.
AdWatcher
When you wanna know if there is any suspicious activity happening around your ads, AdWatcher can be a good resource for you. This platform tracks both ads and click fraud. At the same time, it also reports on profit and cost.
Fees: You can buy a full year of Ad Watcher for about $450. There are other pricing programs available.
The Good: You can use AdWatcher for set-up campaigns, split testing, customizing links, and scheduling. There is a free trial version so you can try it before you buy it. You can use AdWatcher as either a cloud-hosted platform or a self-hosted platform.
The Bad: It's hard to find information about AdWatcher.
AdMinder
AdMinder is a cloud-based platform that allows you to bring more targeted traffic to your site and then track all of that traffic.
Fees: You can get AdMinder for the low price of $19.95 each month.
The Good: It offers a free trial. The AdMinder platform reports on cost per click and return on investment. It also tracks subscribers, sales, clicks, and downloads. You can use it to set up campaigns and sub-campaigns. It guarantees web traffic.
The Bad: AdMinder cannot help you with scheduling, split-testing, or link shortening.
In Charge
In Charge is an ad attribution tracking platform. It comes with omni-channel tracking, customer lifetime value, advanced attribution, and real-time profits.
Fees: It comes with a free starter plan and goes all the way up to $1000 per month for an Enterprise plan, and you can also get a customized plan.
The Good: It comes with a ton of features. It has robust analytics, cross-domain tracking, twenty-four-hour customer support, customer first-party data, multi-attribution settings, and more.
The Bad: It's hard to find additional information about In Charge that is not directly provided by their website. So getting an objective look at it is not an easy task.
Hyros
Let's be honest. We love Hyros. It's our company, so being objective is just a tad hard … especially when we already believe it is the best money can buy.
Here's what a few customers have had to say about Hyros …
"Best customer service in the industry: Hyros is great, the most accurate tracking software ever. Their customer service is the best in the industry, they guide you during the set up and keep helping you optimize your Ads and produce better ROI."
"A must-have software you need in your business!!! We use Hyros before IOS 14 and after, but the feeling is the same. A MUST-HAVE if you want to rock your business numbers. We test a lot of software, but nothing compares with Hyros. The software helps us to reduce our costs and increase the revenue and ROAS. Right now, we can't even imagine our businesses without Hyros. I highly recommend this to everyone."
"Very useful tracking: Very useful tracking, saving a lot on ads, giving visibility and clarity when facebook pixel and IOS conversions are all mixed up. Enables also to compare organic ads, long term sales and short term sales… and for the first time I can read paypal sales too. Almost 80% of sales are tracked. Very practical for the LTV by source."
Hyros focuses on analytics and tracks ad campaigns through various channels. All the while, letting you know what's working and what is flopping.
The fees for Hyros begin at $399 per month and can go up to $3,000 per month. The price is high, yes. But, the guarantee ensures you will make more money, or you'll get your money back.
So What …
We don't know how large your business is or what you need without talking to you, so we cannot tell you what to do … unless you give me a call. Seriously. If you're still stumped after reading all of this information, please reach out.
I can take a look at what you have going on and give you my honest feedback. If Hyros is a great fit, I'll let you know. If it isn't a good fit, I'll let you know that, too. But if it is a good fit, then you can expect to increase your ROI.
HYROS TRACKING
If you are interested in obtaining the same stats I showed in this video and even having us help you set this up, GO HERE to get more information on HYROS.
Ad Training and Tactics
While I do not sell courses, I do offer a private coaching program where I train people on the ad strategies I have used to build multiple 8 figure and 7 figures businesses. You can get more details on that HERE.
HYROS Facebook Group
It's really simple. This group is the best media buyer Facebook group online because we make sure that every member is spending significant ad spend before joining. It's for veteran ad buyers only and because of that the networking/information being shared is on another level. You can apply to join HERE
Here Are Our FULL Zero To Scaled Ad Courses (Free)
The Zero To SCALED Facebook Ads Course (Advanced FB Scaling)
The Zero To SCALE Youtube Ads Course (Advanced YT Scaling)
Here Are Some Other Post You Will Enjoy
Using AI + Print Tracking Is The Ultimate Scaling Edge In 2020-2021
My Top 3 Highest Converting Youtube Ads Of All Time
The Highest Converting Ad Opt In Existence
How I Scaled To 8 Figures On Youtube With BROAD Keywords